Bismillah Al-Rehman Al-Rehman

Anti Ahmadiyya Movement in Islam
7th June 2003

Mirza Tahir and Mubahila


by Dr. Syed Rashid Ali


"Those liars who do Mubahila with the truthfuls, those liars die in the lifetime of truthfuls"
(Statement of Mirza Ghulam A Qadiani in Malfoozaat

In 1988 Mirza Tahir Ahmad Qadiani, the self styled khalifa of Jamaat Ahmadiyya, published a challenge of Mubahila (prayer duel) to the entire Muslim Ummah, addressing them as 'disbelievers, liars'. The challenged was discretely thrown into houses of Muslims in the middle of night in Karachi. Many Muslim scholars accepted this challenge, including Syed Abdul Hafeez Shah, the founder of Anti Ahmadiyya Movement in Islam and offered to come to London for a face to face Mubahila (as required by the Sunnah of Holy Prophet Muhammad SAAW). Mirza Tahir, however, got so scared that he did not even acknowledged these offers.

Ever since, myself on behalf of Anti Ahmadiyya Movement in Islam had challenged Mirza Tahir for Mubahila on several occasions (1994, 1995, 1997, 1998, 2000)1, but he never got the courage to accept these challenges. Maulana Manzoor Chinioti had been going to London almost every year and challenging Mirza Tahir for mubahila, but in vain. Brother Ahtesham-ul-Haq Abdul Bari went to London Headquarter in September 19962 and desired to meet Mirza Tahir for a mubahila, but he refused to see him.

There is a saying in urdu that when the death approaches the jackal, he approaches the city. Over the years of his khilafat, Mirza Tahir became more and more arrogant, but every one has his day and some days are longer than others. Despite being cautious never to accept a mubahila challenge, Mirza Tahir made the fatal mistake in 1999.

In June 1999, Mr Illias Suttar had been having discussions with Mohammed Usman, the Qadiani Murrabi in Karachi, Pakistan. During the course of this discussion, on 3rd June 1999, Mohammed Usman gave a booklet entitled "Challenge of Mubahilla to the Entire Muslim Ummah" dated 10/6/88 to Mr Illias and offered to have Mubahila on behalf of Mirza Tahir, to prove the truthfulness of Mirza Ghulam Ahmad Qadiani. This was readily accepted by Brother Illias Suttar.

Subsequently during the Jalsa Salana of July 1999 in London, Mirza Tahir announced the acceptance of this mubahila in front of his 18,000 followers, who were gathered in Izlamabad in Surrey, UK, for this Jalsa. He called names to Mr Illias Suttar: "Karachi ka Jaahil", "Lalloo Panjoo", "Airaa Ghairaa Nathoo Khairaa".

Exactly after 20 days of accepting this challenge, while on a tour of Norway, Mirza Tahir was struck by the curse of Mubahila. He was delivering a speech, when he suudenly could not say anything coherently. He was flown to London and was in cummunicado for many weeks, recovering from his mysterious illness.

The following account of this mubahila and its results were published by Brother Illias Suttar.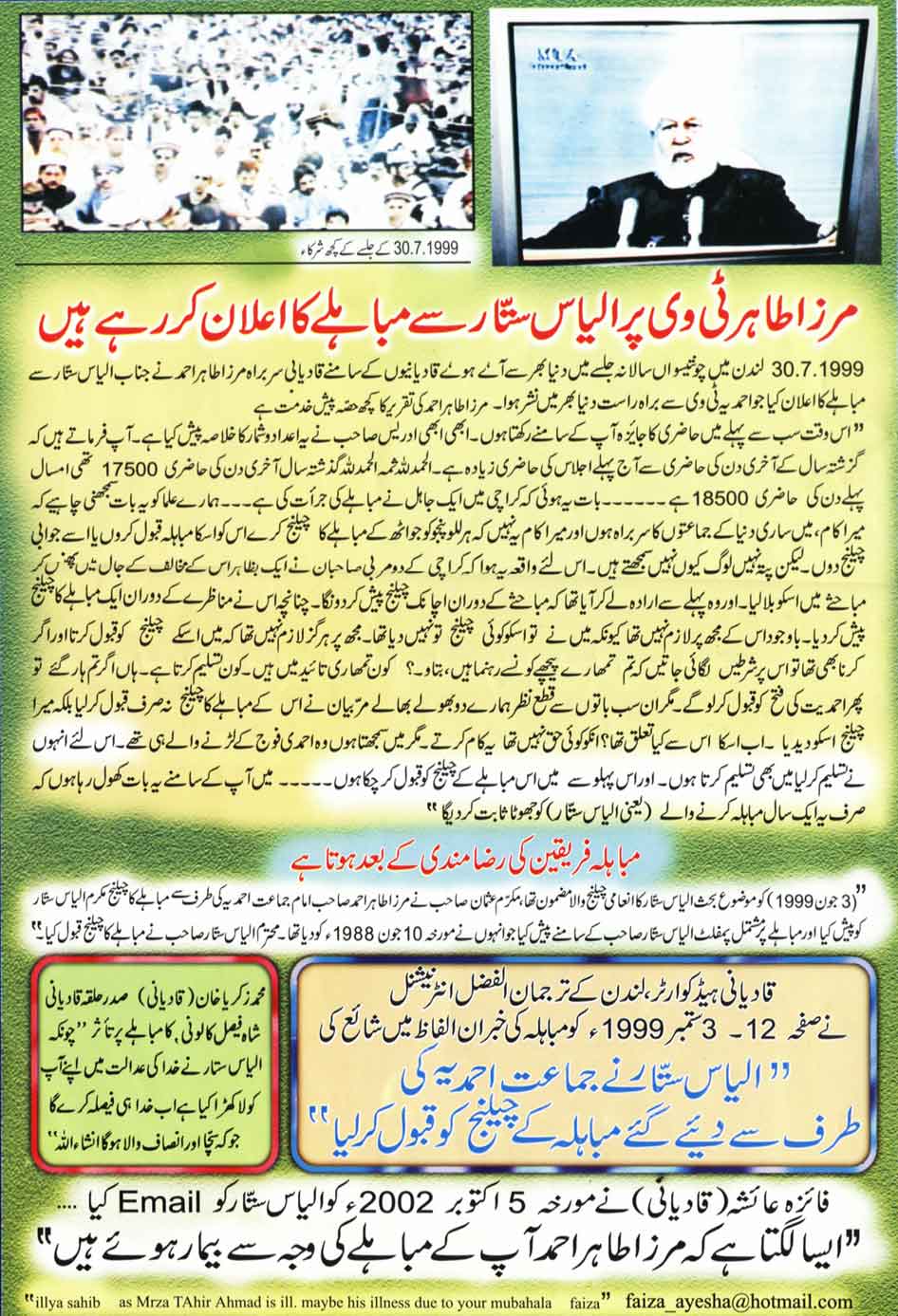 Translation:
Mirza Tahir annoucning the Mubahila with Illias Suttar on Ahmadiyya TV
On 30th July 1999 during the 34th Jalsa Salana in London, in front 18000 Qadianis who came from all over the world, Qadiani Leader Mirza Tahir Ahmad Qadiani announced the Mubahila with Illias Suttar, which was directly telecasted all over the world through Ahmadiyya TV channel. Some exceprts from the speech of Mirza Tahir is presented here:

"At this moment first of all I will present you a review of attendance. Just now Idrees Saheb has presented this summary of figures. He says that the attendence of this first meeting is more than the attendance of the final day's meeting last year. AlHamdolillah summa AlHamdolillah. Last year, the final day's attendance was 17,500, this year the first day's attendance is 18,500 ..... the thing is that in Karachi a JAAHIL (illiterate) has dared to do Mubahila ...... our scholars should understand this thing that my work, I am the Head of all the Jamaats worldwide and this is not my job that any Tom, Dick and Harry who challenges for Mubahila, to accept his mubahila or to challenge in reutrn. But I do not know why people do not understand. Therefore it so happened that two Murabbi Sahebaan of Karachi were trapped by their apparent opponent and called him for debate. He (Illias) came with this intention that during the debate he will suddenly challenge for Mubahila. This during the debate he presented a challenge of Mubahila. And despite that it was not incumbant on me, because I had not given him the challenge. But it was never obligatory on me to accept his challenge, and if I had accepted it them I would applied some conditions like who is your leader behind you? who supports you? who accepts you? if you are defeated, will you accept the victory of Ahmadiyyat. But leaving aside all these things, our two simple Murabbias not only accepted his challenge of mubahila but also gave my challenge to him. Now what has this got to do with it? They had no right to do this, but I understand that they were two fighters of Ahmadi army. Therefore they accepted it and I ALSO ACCEPT IT. AND FROM THIS POINT OF VIEW I HAVE ACCEPTED THIS CHALLENGE OF MUBAHILA ...... I AM SAYING THIS THING OPENLY IN FRONT OF YOU THAT ONLY THIS ONE YEAR THE PERSON WHO IS DOING MUBAHILA WILL BE PROVEN A LIAR. "
Mubahila is valid after the accpetance from both parties
"(On 3rd June 1999) the topic of discussion was the Rewarding Challenge of Illias Suttar. Mukarram Usman Saheb presented Mukarram Illias Suttar the Challenge of Mubahila by Mirza Tahir, Imam Jamaat Ahmadyya, and gave him the leaflet of Mubahila dated 10th June 1988. Muhtaram Illias Suttar accepted this challenge of Mubahila."
AlFazl Internations 3rd Sept 1999 - 12th Sept 1999 printed the Mubahila News:
"Illias Suttar has accepted the Mubahila Challenge given by Jamaat Ahmadiyya"
Comments of Mohammed Zakaria Khan Qadiani, President of Shah Faisal Colony Qadiani Halqa
"Since Illias Suttar has presented himself in the court of Allah, now Allah will decree, which will be turth and just, inshaAllah."
Faiza Ayesha (Qadiani) emailed to Illias Suttar on 5th October 2002
"Illyas Saheb as Mirza Tahir is ill, may be this illness due to your mubahila. Faiza" faiza_ayesha@hotmail.com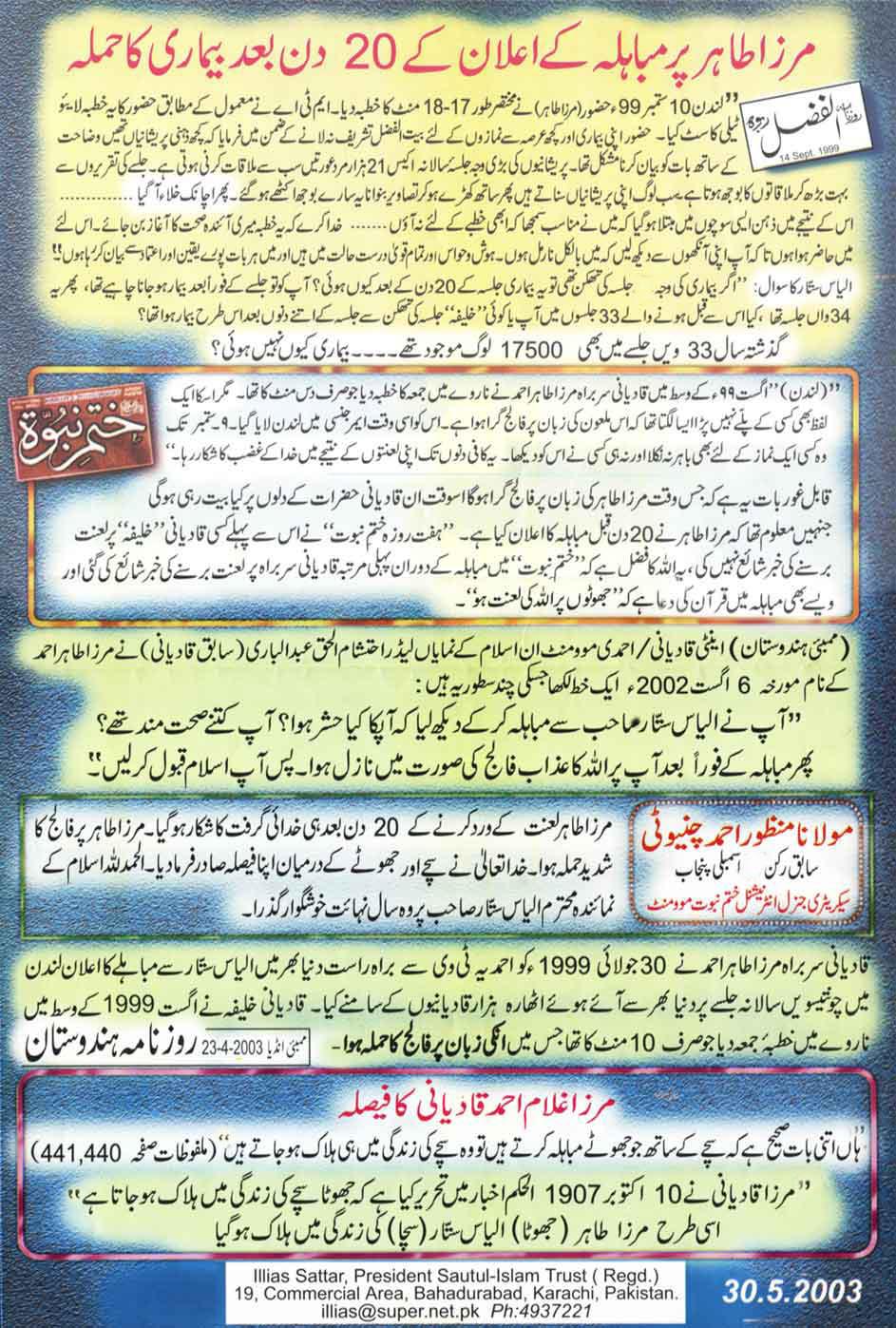 Translation:
Mirza Tahir afflicted by illness 20 days after annoucing the Mubahila
"London 10th Sepr 1999: Huzoor (Mirza Tahir) gave a brief sermon of 17-18 minutes. As usual MTA telecasted the sermon live. Regarding his illness and absence from AlFazl Mosque for prayers for certain period of time, Huzoor said that: "... there were some mental worries, difficulty to explain anything coherently. The main reason for this worries was the Jalsa Salana. 21,000 man and women, I have to meet all of them. The burden of meetings is more than the burden of speeches in Jalsa. Everyone relates their problems, then stand with them to make photographs, all these burdens heaped together, and then all of a sudden there was vacuum......as a result my mind was involved in such thoughts that I considered it wise not to come for sermons yet........ may God make this sermon a begining for my future health. So I have appeared in front of you, so that you can see with your own eyes that I am perfectly normal. My mental status and power is all in order and I can say everything with full conviction and confidence." (AlFazl International 14th September 1999)

Question from Illias Suttar:
If the reason of this sickness was the exhaustion of Jalsa Salana, why did this sickness happen 20 days after the Jalsa? You should have become sick immediately after the Jalsa. Besides this was 34th Jalsa, did he or any other Khalifa ever become sick for such a length of time in any of the previous of 33 Jalsas? In the previous 33rd Jalsa as well there were 17,500 delegates. Why did you not become sick then?
Khatme Nabuwwat Weekly
"(London) In the mid of August 1999, Qadiani leader Mirza Tahir gave the Friday sermon Norway which lasted only 10 minutes, but no one could understand a single word of what was said. It seemed that the tongue of the accursed one was afflicted with paralysis. He was immediately transported to London in an emergency. Until 9th September he did not come out for a single prayer, nor did anyone see him. He remained under divine punishment for a considerable length of time because of his curses."

It is worth pondering that when Mirza Tahir speech was afflicted with paralysis what would have been going on in the minds of those Qadianis who were aware that just 20 days back Mirza Tahir had announced the Mubahila (against Mr Illias Suttar). It is noteworthy that Weekly Khatme Nabuwwat had never before published a report of Curses falling on any Qadiani Khalifa. this is the blessing of Allah that for the first time the news of a Qadiani Khalifa being afflicted by the curses was being published in Khatme Nabuwwat Weekly. The supplication in Quran for Mubahila is: Curse of Allah be upon Liars.
Letter of Ahtesham-ul-Haq Abdul Bari
Mumbai, India. Active member of Mumbai Anti Ahmadiyya/Qadiani Movement, Mr Ahtesham-ul-Haq Abdul Bari (former Qadiani) wrote a letter to Mirza Tahir Ahmad Qadiani on 6th August 2000, in which he wrote:
"After doing a Mubahila with Mr Illias Suttar, you have seen what has happened to you. How healthy you were, but immediately after Mubahila the curse of Allah fell on you in the form of paralysis. Therefore you should embrace Islam."
Maulana Manzoor Ahmed Chinioti, Former Member of Punjab Assembly, Secretary General International Khatme Nabuwwat Movement
"Only 20 days after reciting the curse, Mirza Tahir was caught by God's wrath. He had a severe attack of paralysis. God decided between the truthful and liar. Praise be to Allah, that year was very pleasant for the representative of Islam, Illias Suttar."
Daily Hindustan, Mumbai India. Dated 23. 4 .2003
"During the 34th Jalsa Salana in London, live from Ahmadiyya TV in front of 18000 delegates who came from all over the world, Mirza Tahir announced the MUBAHILA with Illias Suttar. In the middle of August 1999 Qadiani Khalifa gave the friday sermon in Norway which lasted only 10 minutes during which he suffered an attack of paralysis affecting his tongue."
The Verdict of Mirza Ghulam Ahmad Qadiani
"Yes this much is true that those liars who do Mubahila with the truthfuls, they die in the lifetime of truthfuls." (Malfoozaat vol.9 p.440-441)

Mirza Ghulam Ahmad Qadiani wrote in AlHakm Qadian Newspaper on 10th October 1907 that:

"Liar die in the life time of truthful."
Likewise Mirza Tahir died in the lifetime of Illias Suttar.

Mr Illias Suttar
President, Sautul-Islam Trust (Regd)
19 Commercial Area, Bahadurabad, Karachi, Pakistan
illias@super.net.pk Tel: 4937221
---

Dear Readers


Now the new 5th Khalifa is in place. Mirza Masroor Ahmad Qadiani, the new khalifa, is the great grandson of Mirza Ghulam Ahmad Qadiani. It is interesting to note that it seems that the leadership of this community is a family affiar and once again someone from the Qadiani Royal Family has been chosen to lead the jamaat. On behalf of Anti Ahamdiyya Movement, I sincerely advice him to learn the lesson from the divine punishment recieved by his predecesor. It seems that Mirza Masroor has taken notice of this divine punishment, because he has forbidden all Qadianis to have any debates with Muslims, or to indulge in any kind of Mubahila (Khabrain Akhbaar, Islamabad, Pakistan)

Dear Mr Masroor Ahmad Qadiani Saheb!
It is not just enough to stop the mubahila with Muslims. If you have really heeded the divine message delivered through this Mubahila then you should denounce Mirza Ghulam Ahmad Qadiani as a liar, and embrace Islam. This Mubahila was not about the truth or lies of Mirza Tahir, it was based on the Mubahila challenge given by Mirza Tahir in 1988, which was basically about Mirza Ghulam Ahmad Qadiani and whether he was a liar or truthful in his claims. I invite you to denounce Ahmadiyyat and embrace Islam. I further advice you to ask your followers in the Ahmadiyya Jamaat to do the same. InshaAllah if you do that, you will be successful in this world and the world hereafter.

If you refuse to do that, I challenge you for a Mubahilla to prove that Mirza Ghulam Ahmad Qadiani was a liar in all his claims. I hope that unlike your predecessor, you will have the courage to come forward for mubahila to prove that Mirza Ghulam Ahmad Qadiani, whose Khalifa you are, was not a liar but a prophet of God. By accepting this challenge, you will on the one hand establish your place in the Jamaat Ahmadiyya, boast the moral of your followers and the world will know whether or not Mirza Ghulam Ahmad Qadiani was a prophet of God.

Wassalaam on those who follow the hidayah

Dr. Syed Rashid Ali
P O Box 11560
Dibba Al-Fujariah
United Arab Emirates
rasyed@emirates.net.ae
http://alhafeez.org/rashid/
---

Further Readings:
Mubahila Challenge 1994
Mubahila Challenge 1995
Mubahila Challenge 1997
Mubahila Challenge 1998
Mubahila Challenge 2000
Ahtesham's visit to London
Mirza Tahir accepts Mubahila with Illias Suttar
External Link: www.ahmedi.org